Wood pellet boiler
Drastically cut
down heating bills!

Our wood pellet stoves and pellet boilers are intended to drastically reduce the fuel costs of boiler and hot air stove without which households or workplace can't do.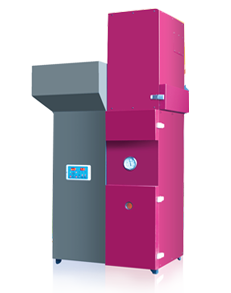 Features of wood pellet boiler
Strong flame

Cyclone burner system produces ultrahigh flame (Patent No: 2011-75700)
Unimaginable high temperature from wood fuel gives complete combustion.
Patented special heat exchange pin tube

Fitted with special heat exchange pin tube and maximizes
the thermal efficiency.
95% in thermal efficiency

Discharges dust through stove pipe and prevents fire-flakes from discharging in the air during combustion,
in addition, collects the waste heat and realizes the thermal efficiency 90%.
Thermal efficiency can be used in thermal efficiency 95% without chimney in some facilities environment.
Space heating

Fitted with 2* 80W cross fans allowing for quick space heating.
Produces heat value twice compared to that of existing product.
You can reclean the combustion burner chamber easily by one touch system.
· Intended Uses

Suitable for Common household, Office, Factory, Flower garden (shop), Pension, Sub-urban house, Restaurant, Small cultivation-controlled farmhouse
· Fuel Economy

Gives the fuel economy effect to households and workplaces by cost of ½~⅓ compared to kerosene
· Boiler inside water capacity : 65L

Pipe connection constitution :

Heating (25A)
Hot water supply (15A)
· Composition and Name

Fuel tank
Controller
Front door
Device of collecting dust and
recovering waste heat
Window
Door for
cleaning ash 2
Door for
cleaning ash 3
Door for
cleaning ash 1
Device for Cleaning sludge
· Specifications
| Category | Data |
| --- | --- |
| Size and Weight | 565 × 768 × 1724 (length, width, height) mm |
| Calorific value | 25,000Kcal |
| Heating extent | 133㎡ |
| Way of ignition | 1Ø 220V 50/60HZ 400W (Hot-air heating) |
| Fuel stock | 50KG |
| Fuel consumption | 5.5KG/Hr |
| Burner air fan | 1Ø 220V 50/60HZ. 230W. 7.1m³/min 75mmAq |
| Sludge Cleaning Motor | 1Ø 220V 50/60HZ. 25W. Speed reduction ratio 10 : 1 |
| Fueling motor | 1Ø 220V 50/60HZ. 5.2W. |
| Circulation pump | 1Ø 220V 50/60HZ. 100W. 40L/min 25A |
| Power supply | 1Ø 220V 50/60HZ. Ignition:400W, Usual:150~200W |